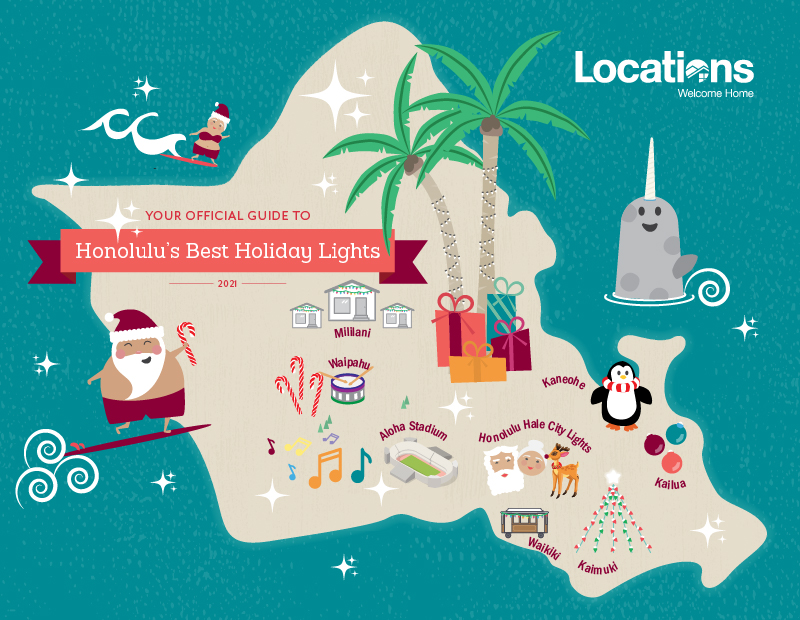 The holiday season is officially here, and there are plenty of twinkling holiday lights to take in across the island. Whether you choose to stroll through your favorite decked-out neighborhood with friends or enjoy the lights from the comfort of your own car, you're sure to find some delightful scenes! So, fill your to-go mug with some hot cocoa and round up the keiki; below are our Locations Neighborhood Experts' picks for the best holiday light decorations across Oahu
Pro-tip: Download and print our Holiday Lights Scavenger Hunt Checklist before you go!
Please check all mask and/or vaccination requirements before visiting an event.
Honolulu Hale City Lights
Shaka Santa and Tutu Mele are back for the 37th annual Honolulu City Lights display at Honolulu Hale. With its stunning lights and giant, 50-foot-tall pine tree, City Lights is a Honolulu holiday tradition. Visitors are asked to wear masks while they view the displays inside and outside of Honolulu Hale. The following activities will NOT be available this year: Keiki rides, photos with Santa, holiday concerts, wreath contest and opening night parade.
You can also take in the lights aboard the Waikiki Trolley, which departs from Auahi Street in Ward Village nightly from Dec. 5 - 26. $20 for adults and $15 for children 3 years and up (children 3 and under must sit on an adult's lap). Reservations and masks required. A portion of the proceeds will be donated to Hawaii Food Bank.
Kaimuki
Take in the panoramic views of Honolulu from atop Pu'u O Kaimuki Mini Park, better known as Christmas Tree Park, for its 'floating' Christmas tree, decorated by the Kaimuki Business & Professional Association and community volunteers. Look for Kaimuki's iconic Christmas tree as you drive along H1 past Kaimuki or Harding Ave.
At the intersection of Wilhelmina Rise and Keanu Street, at the base of the hill, are two decked-out homes on opposite sides of the street. The home on the corner of Wilhelmina Rise and Keanu Street features giant inflatable characters and more than 60 strings of lights, while the home across the street is decorated in memory of Phil and Ernie Akau and features large stockings with family members' names, a stained glass nativity scene, snowmen and more.
Central Oahu
Visit Aloha Stadium for Show Aloha Land – A Holiday Wonderland, a dazzling drive-through light show featuring more than 2.5 million LED lights choreographed to holiday music, played on your FM radio. There's photos with Santa and a walking light tunnel, too. Take in the lights from your own vehicle for $55 or hop on a trolley for $20 per ticket. Food and drinks available for sale at the Mega Tree Food Court. Available now through Jan. 1, 2022.
Waipahu
At the Village Park, on the corner of Kupuna Loop and Palai St. in Waipahu, homeowners go all-out every year, creating a holiday spectacle for the whole neighborhood to enjoy, says Locations agent Darryl Macha.
Also in Waipahu, the homeowners at 94-313 Kiokio Place have been delighting passerby with a display featuring a rotating cast of Disney and Dr. Seuss characters for more than 25 years. Kupuna Loop and Palai Street are often decked out, too.
Mililani
Every year, visitors from all over the island flock to the three cul-de-sacs bordering Mahinahou Street in Mililani for elaborate light displays. The "Star Wars House" on Neleau Place is also back with a Star Wars-themed display, and costumed characters from the Pacific Outpost will be available for photo ops starting at 7 p.m. December 11, 18 and 24.
North Shore
Visit Rainbow Bridge in Haleiwa for a holiday lights and music show, from 6 p.m., Friday, December 10 to 9 p.m., Saturday, December 11.
Kapolei
Since its inaugural celebration in 2001, Kapolei City Lights has been spreading holiday cheer to Leeward Oahu as a complement to Honolulu City Lights. Held at Kapolei Hale, at 1000 Ulu'ōhia Street, visitors can enjoy outdoor lights, a 50-foot tree from Maka'unulau Community Park in Mililani and an array of sculptures. The traditional lighting ceremony and parade will not take place this year.
Kaneohe
In December, Namoku Street transforms into "Christmas Tree Lane"- Kaneohe's holiday hot spot. While there is no coordination among the houses, there is a variety of light displays – including a 9-foot bear on a choo-choo train and a Santa on the rooftop.
Have fun touring the holiday lights and happy holidays from Locations!
Registration Complete
Congratulations, you have access to Hawaii's most comprehensive Real Estate Search! Please help us to better serve you by answering these optional questions.
---
Reset Password
This email is already registered. Click the button below and we'll send you a link to reset your password.
Account Already Exists
You have already registered using your FB account.
Reset Password
Check your inbox for an email from brokersmls@locationshawaii.com. It contains a link to reset your password.
LOGIN ERROR
The agent who gave you access to this website is no longer with Locations LLC.
Due to local MLS regulations, you will need to re-register if you would like to continue your access.
We will pre-fill the registration form with information in our files. Once you click Register you can either select a new agent or one will be assigned for you.
Sorry for the inconvenience, Locations LLC.
REGISTRATION/LOGIN
Please contact your agent for access to LocationsHawaii.com.
Schedule a Virtual Tour
Request an appointment to view this property by completing the information below. Please note your appointment is not confirmed until an agent calls you.
Disclaimer: The properties we may show you may be Locations LLC listings or listings of other brokerage firms. Professional protocol requires agent to set up an appointment with the listings agent to show a property. Locations, LLC may only show properties marked "Active" and "ACS".
Listings in
Bedroom(s), Bathroom(s)
-
Save This Listing
Keep your eye on this property! Save this listing and receive e-mail updates if the status of the property changes.
Save
Send to a Friend
Share this property by completing the the form below. Your friend will receive an e-mail from you with a link to view the details of this property.
---
How can we help?
Send a message and we'll respond shortly.
We will not rent, share, or sell your information. Privacy Policy.

Thank you! We have received your inquiry and will be contacting you shortly.