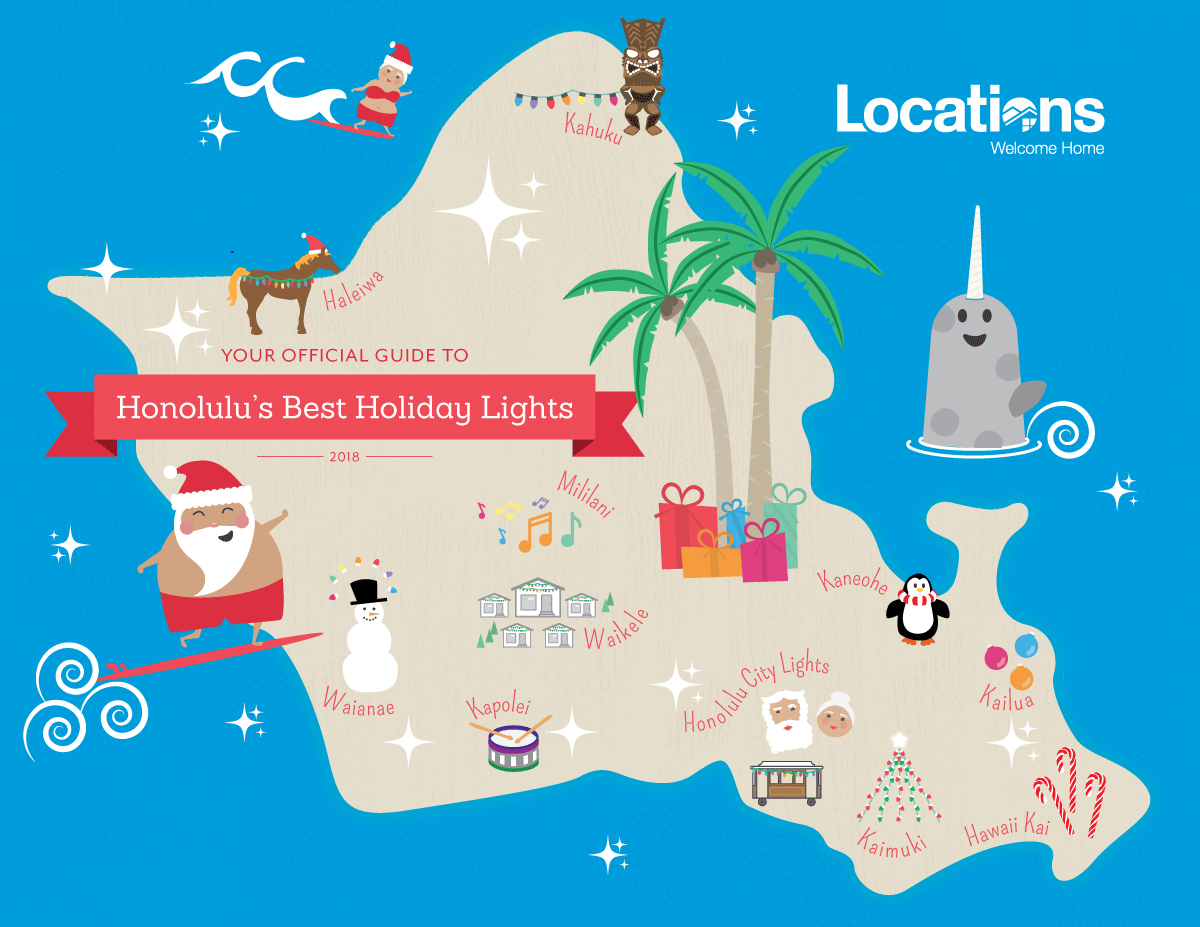 The holiday season is officially here, and neighborhoods across Oahu are bursting with holiday lights, Santas, reindeer, music and more! Below are our Locations Neighborhood Experts' picks for the best holiday light decorations this year.
Honolulu Hale City Lights
The Honolulu City Lights display at Honolulu Hale is known for its stunning lights and giant, 60-foot tall pine tree. City Lights will be open from 8 a.m. to 11 p.m., from Dec. 1 – Jan. 1, with food booths and keiki rides. Park for free in the city's municipal lot or on the street. You can also take in the lights aboard a 30-minute trolley tour, which leaves from Ward Village. Available from Dec. 2-30 for $8 for riders over age the age of three.
Kaimuki
Take in the panoramic views of Honolulu from a top Pu'u O Kaimuki Mini Park, better known as Christmas Tree Park, for its 'floating' Christmas tree, decorated by the Kaimuki Business & Professional Association and community volunteers, like ukulele virtuoso Jake Shimabukuro. Look for Kaimuki's iconic Christmas tree as you drive along H1 or travel along Harding Ave.
At the intersection of Wilhelmina Rise and Keanu Street, at the base of the hill, are two decked homes on opposite sides of the street. The home on the corner of Wilhelmina Rise and Keanu Street features giant inflatable characters--including Elsa and Olaf--and more than 60 strings of lights, while the home across the street is decorated in memory of Phil and Ernie Akau and features large stockings with family members' names, a stained glass nativity scene, snowmen and more.
Also join in for the 72nd Annual Kaimuki Christmas Parade and Tree Lighting on Dec. 6 from 6 p.m. It will march up Waialae Avenue from St. Louis School/Chaminade University to Koko Head Avenue.
Waikele/Waipahu
People from all over the island flock to the famous Anapau Place to experience Waikele Lights. Known for its computerized light shows that are coordinated with multiple houses on the street, Waikele Lights runs from 7 – 9:30 p.m. from Dec. 1 to Dec. 31. Anapau Place will be closed off to vehicular traffic during show times. Expect a lot of traffic and pedestrians, but word on the street is that it's well worth it!
Fun Fact: Anapau Place was featured on ABC's "The Great Christmas Light Fight" in 2014, where it faced off with two other streets in America!
Over in Waipahu, at the Village Park on the corner of Kupuna Loop and Palai St. in Waipahu, homeowners go all-out every year, creating a holiday spectacle for the whole neighborhood to enjoy, says to Locations agent Darryl Macha. Also in Waipahu, the homeowners at 94-313 Kiokio Place have been delighting passerby with a display featuring a rotating cast of Disney and Dr. Seuss characters for more than 25 years.
Kapolei
Taking a cue from Honolulu Hale, Kapolei Hale boasts an over-sized decorated Christmas tree and holiday display, as well as a holiday-themed courtyard inside the Hale, with trees decked out by employees and the community. Homes on Keokolo Street and Kolili Street are also decorated with white and red lights, a nativity scene, reindeer, the Seven Dwarfs and more.
Makakilo
About a dozen houses on Akaula Street in Makakilo are decorated with snowman, Santa, and a whole lot of lights. The homes at 92-1346 Kihana Street and 92-520 Waokele Street are "must-sees," and if you're lucky, the homeowners may be out to pass out candy canes and talk story about their holiday decorations.
Waianae
Head on over to Aone Place where the homeowners have been displaying handmade cut-outs of Disney and Star Wars characters, Santa and his reindeer, and more for 30 years. Over on Hakimo Road, there are more than 10,000 lights and 300 figures, including Disney characters and scenes from Santa's Workshop.
North Shore
Away from the hustle and bustle of the city, North Shore has its own celebration to make the Christmas season warm and bright. Enjoy a magical array of lights, trees and decorations displayed at the Polynesian Cultural Center.
The North Shore Chamber of Commerce will hold an old-fashioned country parade featuring marching bands, parade horses and more Dec. 14 from 6 – 7 p.m. Arrive early to enjoy the beautiful decorations throughout the town!
Mililani
Every year, three cul-de-sacs bordering Mahinahou Street put on an elaborate light display for the public--past years have included photo-ops with Star Wars-themed 501st Legion and holiday cookies!
Kailua
The owners of 1170 Akumu Street have put on a lively light show every year for the past 30 years. With inflatables, ornaments and more than 10,000 lights synchronized to Christmas music, this is a must-see home on the Windward side. From 6 to 9:30 p.m.
Kaneohe
In December, Namoku Street transforms into "Christmas Lane"- Kaneohe's holiday hot spot. While there is no coordination among the houses, there is a variety of light displays – including a 9-foot bear on a choo-choo train and a Santa on the rooftop.
Hawaii Kai
Take a stroll down "Candy Cane Lane" in Mariners Village 2, located at 575 Hahaione Street--it features a traditional light display with Santa and his reindeer, snowmen and more.
Have fun touring the holiday lights and happy holidays from Locations!