Locations Foundation honors Aina Haina Elementary School Teacher with Top Teacher Award
The goal of the Locations Foundation is to give back to our island community, and that is what our local schoolteachers do every day in Hawaii. So, in recognition of National Teacher Appreciation Week, the Locations Foundation, the charitable foundation of Hawaii's leading independent real estate firm, honored 15 Oahu teachers for their exceptional service to their institutions and their students in its annual Teacher Award Program.
Since 2003, the Locations Foundation has recognized more than 200 Oahu teachers and donated more than $60,000 for school supplies, classroom projects and activities.
"With last month's sudden transition from classroom to online education, Oahu's teachers are facing new challenges to keep students engaged and connected," said Locations Foundation President and Realtor® Kristin Mukai.
"The Locations Foundation established the Teacher Award Program 17 years ago to recognize outstanding educators for their extraordinary service and to provide them with much-needed financial assistance for school supplies and classroom projects to further student engagement and development," Mukai added.
Nominated by Locations Foundation donors, award winners are selected by a committee, based on the following criteria:
Reinforces learning inside and outside of the classroom.
Engages students to participate in classroom activities.
Demonstrates care for his/her students, their well-being and overall development.
Communicates effectively with parents.
Participates in co-curricular activities and/or community service.
The Locations Foundation's 2020 Top Teacher Award Winner is Alexis Ishihara of Aina Haina Elementary School (go Jaguars!). Formerly a third-grade teacher at the same school, Alexis is currently the proud First Grade teacher at Aina Haina, where she uses technology and a unique mentoring program to teach science and active community engagement.
Her commitment to her students and school does not end when the school bell rings at the end of the day. She also volunteers at many STEM/science nights on campus and volunteers at the annual Aina Haina School Fall Festival. She also serves on the school's Parent Teacher Association as a teacher representative, and volunteers for the Honolulu City and County parks and recreation program. She was proudly nominated for the award by Locations Realtor® Jeff Iwashita.
Congratulations to Alexis Ishihara and all the finalists and awardees who make learning fun and shape the leaders of our tomorrow!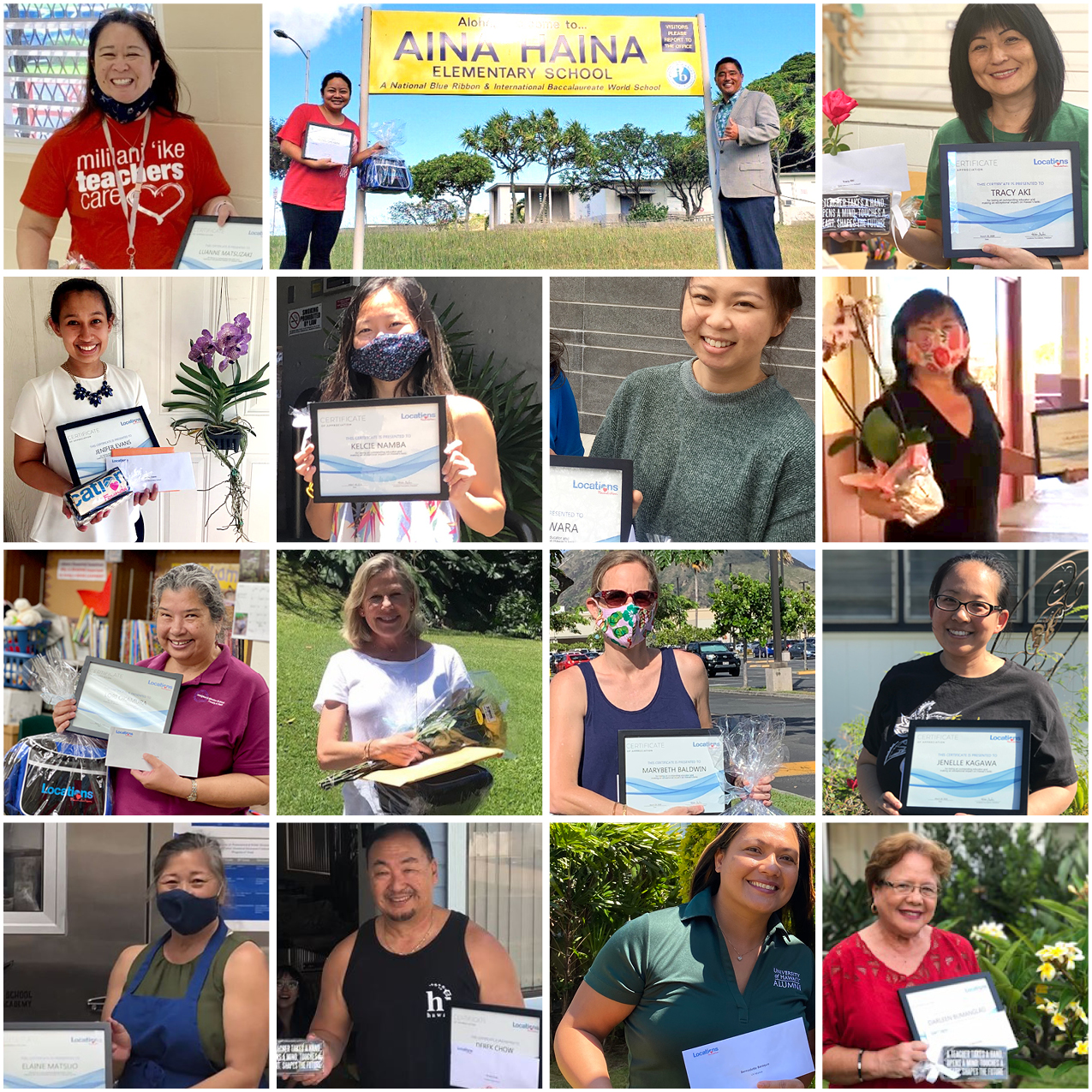 Top Teacher Award ($1,000)
Alexis Ishihara, Aina Haina Elementary

School Finalists ($500)
Elaine Matsuo, Waipahu High School
Lori Okamura, Hongwanji Mission School
Mari-Jo Schull, Punahou School
Marybeth Baldwin, Hawaii Technology Academy
Other Awardees ($200)
Bernadette Baraquio, UH Manoa
Darleen Bumanglag, Fort Shafter Elementary School
Derek Chow, Campbell High School
Kelcie Namba, Ma'ema'e Elementary School
Kelli Kajiwara, Nanakuli High and Intermediate School
Jenelle Kagawa, Makakilo Elementary School
Jenifer Evans, Hahaione Elementary School
Laurie Seu, Kalani High School
Luanne Matsuzaki, Mililani Ike Elementary School
Tracy Aki, Ewa Elementary School
Registration Complete
Congratulations, you have access to Hawaii's most comprehensive Real Estate Search! Please help us to better serve you by answering these optional questions.
---
Reset Password
This email is already registered. Click the button below and we'll send you a link to reset your password.
Account Already Exists
You have already registered using your FB account.
Reset Password
Check your inbox for an email from brokersmls@locationshawaii.com. It contains a link to reset your password.
LOGIN ERROR
The agent who gave you access to this website is no longer with Locations LLC.
Due to local MLS regulations, you will need to re-register if you would like to continue your access.
We will pre-fill the registration form with information in our files. Once you click Register you can either select a new agent or one will be assigned for you.
Sorry for the inconvenience, Locations LLC.
REGISTRATION/LOGIN
Please contact your agent for access to LocationsHawaii.com.
Schedule a Virtual Tour
Request an appointment to view this property by completing the information below. Please note your appointment is not confirmed until an agent calls you.
Disclaimer: The properties we may show you may be Locations LLC listings or listings of other brokerage firms. Professional protocol requires agent to set up an appointment with the listings agent to show a property. Locations, LLC may only show properties marked "Active" and "ACS".
Listings in
Bedroom(s), Bathroom(s)
-
Save This Listing
Keep your eye on this property! Save this listing and receive e-mail updates if the status of the property changes.
Save
Send to a Friend
Share this property by completing the the form below. Your friend will receive an e-mail from you with a link to view the details of this property.
---
How can we help?
Send a message and we'll respond shortly.
We will not rent, share, or sell your information. Privacy Policy.

Thank you! We have received your inquiry and will be contacting you shortly.