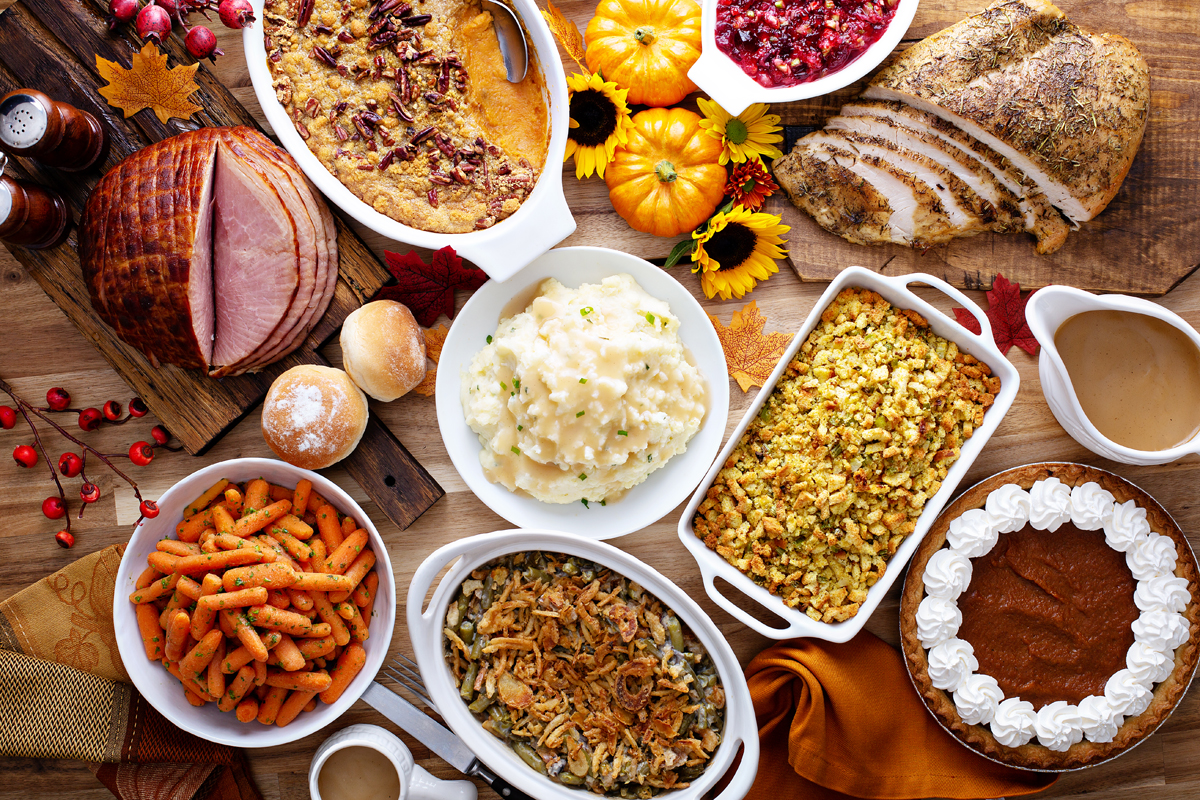 After a pared-down, socially-distanced Thanksgiving 2020, we're ready to once again gather with 'ohana and friends to give thanks, count our blessings, and--of course--feast on 'ono grindz.
This Thanksgiving, Thursday, November 25, 2021, skip the hassle of cooking at home and sample one of the many delicious Thanksgiving dinners across the island. From dine-in to carry-out, there are plenty of mouth-watering Thanksgiving meal options to choose from this year!
Be sure to call ahead to reserve your spot or place your order, and if dining out, be sure to verify COVID-19 vaccination requirements.
Dine-Out Options
Waikiki
From $113 per adult | From $68 children (3-11)
Rock-A-Hula offers a luau-style or 4-course dinner, special dessert, dazzling new Rock-A-Hula show and exciting "meet & greet" in the heart of Waikiki. Discounted parking is available at Royal Hawaiian Center. The luau-style buffet includes carving station with luau pig, roast beef and lomilomi salmon! More information.
2201 Kalakaua Ave., Honolulu, HI 96815
Enjoy Thanksgiving dinner with a view at 100 Sails Restaurant & Bar located in Prince Waikiki. Dig in to traditional turkey and mashed potatoes, along with steamed crab legs, Kauai shrimp, sushi and more! Call 808-944-4494 for reservations. More information.
100 Holomoana St., Honolulu, HI 96815
Ala Moana/Kaka'ako
Ruth's Chris offers a traditional three-course feast, including roasted turkey breast with sausage and herb stuffing and choice of sides. Open from 11 a.m. to 8 p.m. on Thanksgiving Day. Book now.
500 Ala Moana Blvd., Honolulu, HI 96813 (Also in Waikiki, at 226 Lewers Street, Waikiki Beach Walk).
Buca di Bepo's traditional Thanksgiving meal features turkey, home-style gravy, mashed potatoes, spicy Italian sausage stuffing, green beans, cranberry sauce and pumpkin pie! You can also order authentic Italian dishes from their regular menu. The restaurant opens at 11 a.m. Book now.
1030 Auahi St Bay 1, Honolulu, HI 96814
Kahala
$98 per adult | $49 children (6-12)
Brunch menu. Plumeria Beach House at The Kahala will offer an all-you-can-enjoy Thanksgiving buffet, complete with traditional butter-roasted turkey and a side of live entertainment from Jeremy Hirokawa, from 10:30 a.m. to 2:30 p.m.
$98 per adult | $49 children (6-12)
Dinner menu. Thanksgiving Dinner at the Plumeria Beach House at the famed Kahala Resort includes fresh ahi poke, traditional butter-roasted turkey, prime rib of beef, steamed snow crab and much more. Signature desserts include pumpkin crunch, mascarpone savarin with fall-spiced apple compote, Okinawan sweet potato and haupia pie and bread pudding with crème Anglaise. Eric Lee will perform from 5 p.m. to 9 p.m. Book now.
5000 Kahala Ave., Honolulu, HI, 96815
North Shore
$130 per adult | $65 children (4-12)
If you'll be on North Shore this Thanksgiving, head to Turtle Bay Resort to indulge in herb-roasted turkey, prime rib, whipped potatoes, kabocha squash soup, poke bar, peel-and-eat shrimp and more. From 11 a.m. to 2 p.m. Book now.
57-091 Kamehameha Hwy., Kahuku, HI 96731
Ko Olina
$105 per adult
Enjoy an upscale Thanksgiving dinner with sunset views at Mina's Fish House on the west side. The menu, which doesn't include the traditional turkey, features char-roasted chicken, prime NY strip steak, panko & apple-crusted branzino and more. Call 808-679-0079 for more information. Book now.
92-1001 Olani St., Kapolei, HI 96707
To-Go Options
$350 (feeds up to 10 people)
Make Thanksgiving stress-free with these pre-made dishes by the hotel's master chefs, featuring a whole roasted turkey with truffle gravy, stuffing with pancetta, apple and fennel, pumpkin pie and more! Pick up Nov. 25. Book now.
2259 Kalakaua Ave., Honolulu, HI 96815
Small (feeds 3 people) $78.99 | Large (feeds 6 people) $148
Buca di Beppo's Thanksgiving Dinner to-go includes turkey and your favorites sides. Small platter servers up to 3 people, and large serves up to 6 people. Heat-and-eat option pick up begins Nov. 23 and ready-to-serve option pick up begins Nov. 24. Orders must be placed by 8 a.m. EST, Nov. 23. Order now.
1030 Auahi St., Bay 1, Honolulu, HI 96814
Complete meal (feeds 4 people) $175 | Everything but the turkey (feeds 4 people) $115 | Sides only, starting at $27.95 each
Impress your guests with oven-roasted turkey breast and Ruth's Chris signature side dishes, including creamed spinach, sweet potato casserole, au gratin potatoes and more. Pre-order now.
500 Ala Moana Blvd., Honolulu, HI 96813
$450 (feeds 6-8 people)
The Kahala Resort's "Complete Turkey Dinner To Go" can be picked up on Thanksgiving Eve or Thanksgiving Day, and feature favorites like Mary's free-range, non-GMO, fresh turkey, Chef Mizukami's Portuguese Stuffing and Kahala's pumpkin pie bread pudding with eggnog Anglaise Order now.
5000 Kahala Ave., Honolulu, HI 96816
>
Registration Complete
Congratulations, you have access to Hawaii's most comprehensive Real Estate Search! Please help us to better serve you by answering these optional questions.
---
Reset Password
This email is already registered. Click the button below and we'll send you a link to reset your password.
Account Already Exists
You have already registered using your FB account.
Reset Password
Check your inbox for an email from brokersmls@locationshawaii.com. It contains a link to reset your password.
LOGIN ERROR
The agent who gave you access to this website is no longer with Locations LLC.
Due to local MLS regulations, you will need to re-register if you would like to continue your access.
We will pre-fill the registration form with information in our files. Once you click Register you can either select a new agent or one will be assigned for you.
Sorry for the inconvenience, Locations LLC.
REGISTRATION/LOGIN
Please contact your agent for access to LocationsHawaii.com.
Schedule a Virtual Tour
Request an appointment to view this property by completing the information below. Please note your appointment is not confirmed until an agent calls you.
Disclaimer: The properties we may show you may be Locations LLC listings or listings of other brokerage firms. Professional protocol requires agent to set up an appointment with the listings agent to show a property. Locations, LLC may only show properties marked "Active" and "ACS".
Listings in
Bedroom(s), Bathroom(s)
-
Save This Listing
Keep your eye on this property! Save this listing and receive e-mail updates if the status of the property changes.
Save
Send to a Friend
Share this property by completing the the form below. Your friend will receive an e-mail from you with a link to view the details of this property.
---
How can we help?
Send a message and we'll respond shortly.
We will not rent, share, or sell your information. Privacy Policy.

Thank you! We have received your inquiry and will be contacting you shortly.