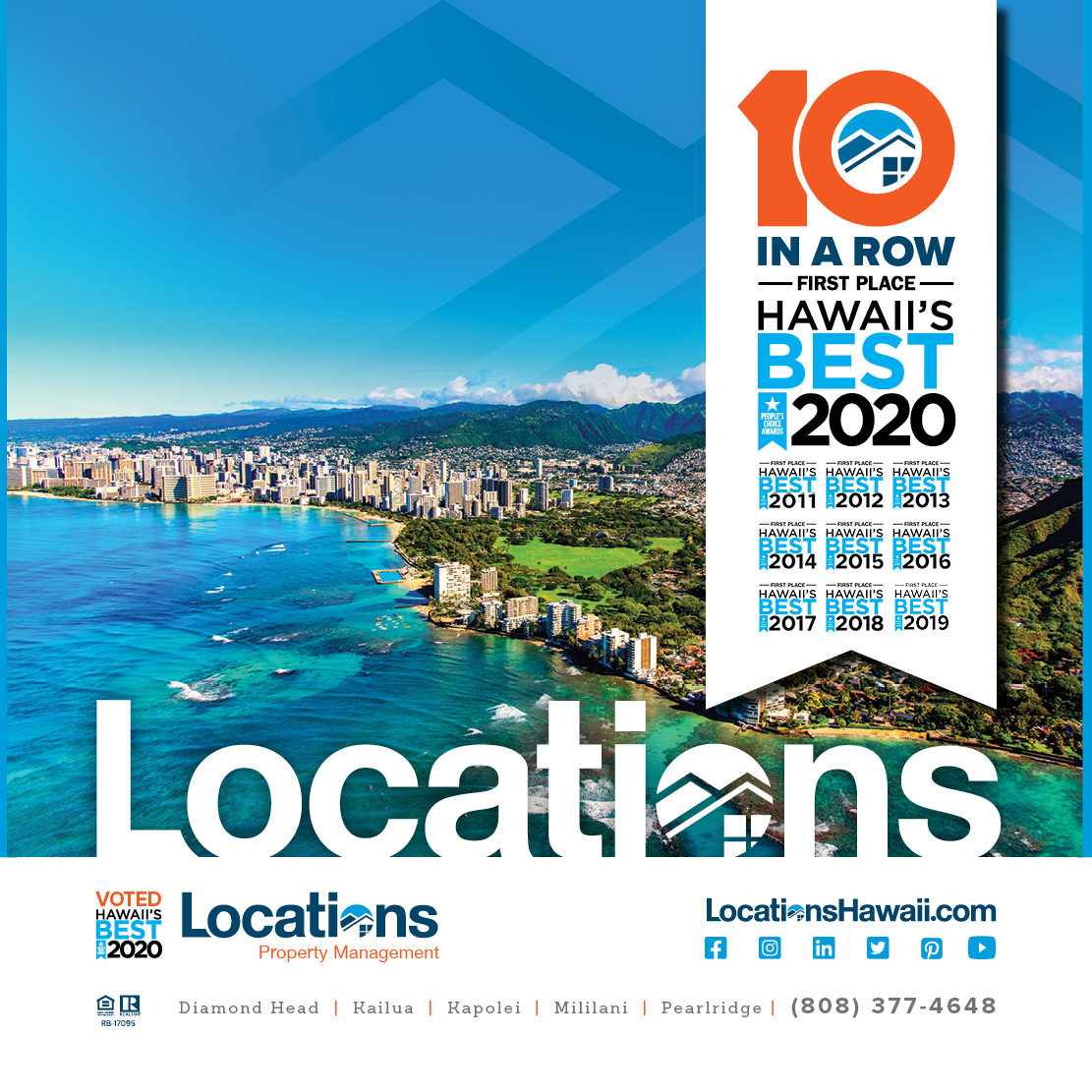 Hawaii's Best Real Estate Company
Mahalo to our loyal clients and the readers of the Honolulu Star-Advertiser for voting Locations Hawaii's Best Real Estate Company, First Place, for the 10th year in a row! At Locations, our agents work hard to give clients a competitive edge. Armed with the most comprehensive local market data and cutting-edge technology, our agents have been helping kama'aina to make smart real estate decisions for more than 50 years. Since our founding in 1969, our top priority has always been our clients. We're grateful for the opportunity to serve Hawaii's real estate needs, and mahalo for voting us Hawaii's Best!

Hawaii's Best Realtor®,2020, Cari Tanabe
Congratulations to Locations Realtor® Cari Tanabe for being voted Hawaii's Best Realtor® for the second year in a row! With an average client rating of five stars, it's no surprise that Cari's clients see her as "Hawaii's Best." Her background in lending, coupled with her extensive knowledge of Oahu's many neighborhoods, ensure that Cari's clients benefit from her experience and detail-oriented customer service.
Hawaii's Best Property Management Company, 2020
Locations Property Management was also voted Hawaii's Best Property Management Company by the readers of the Star Advertiser. With more than 5,000 rental properties, Locations Property Management is Oahu's largest property management company. Thanks to the scale and organizational structure of our Property Management division, we provide top-notch customer service to our property owners and tenants across Oahu.
Thanks again from all of us at Locations!
Registration Complete
Congratulations, you have access to Hawaii's most comprehensive Real Estate Search! Please help us to better serve you by answering these optional questions.
---
Reset Password
This email is already registered. Click the button below and we'll send you a link to reset your password.
Account Already Exists
You have already registered using your FB account.
Reset Password
Check your inbox for an email from brokersmls@locationshawaii.com. It contains a link to reset your password.
LOGIN ERROR
The agent who gave you access to this website is no longer with Locations LLC.
Due to local MLS regulations, you will need to re-register if you would like to continue your access.
We will pre-fill the registration form with information in our files. Once you click Register you can either select a new agent or one will be assigned for you.
Sorry for the inconvenience, Locations LLC.
REGISTRATION/LOGIN
Please contact your agent for access to LocationsHawaii.com.
Schedule a Virtual Tour
Request an appointment to view this property by completing the information below. Please note your appointment is not confirmed until an agent calls you.
Disclaimer: The properties we may show you may be Locations LLC listings or listings of other brokerage firms. Professional protocol requires agent to set up an appointment with the listings agent to show a property. Locations, LLC may only show properties marked "Active" and "ACS".
Listings in
Bedroom(s), Bathroom(s)
-
Save This Listing
Keep your eye on this property! Save this listing and receive e-mail updates if the status of the property changes.
Save
Send to a Friend
Share this property by completing the the form below. Your friend will receive an e-mail from you with a link to view the details of this property.
---
How can we help?
Send a message and we'll respond shortly.
We will not rent, share, or sell your information. Privacy Policy.

Thank you! We have received your inquiry and will be contacting you shortly.